Hall systems for agriculture
Sophisticated systems with tangible benefits
Halls from LCA Cover All are particularly impressive when it comes to indoor climate, versatility and cost-benefit ratio.
The partially translucent fabric membrane creates a naturally bright lighting which promotes the well-being of the animals and thus productivity. Even in overcast conditions, it' still so bright that you can easily dispense with costly electrical lighting. Thanks to the large air space, the air quality achieved in the halls is unrivalled. Together with optional fans, you determine the air quality, thereby increasing production and growth with the simplest, most natural means whilst causing your animals less stress in the process.
Our halls are also suited for storing grain, straw and hay or machinery.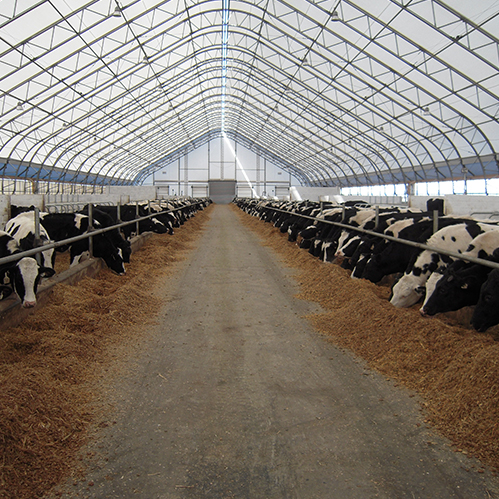 Roofing or elements such as concrete guide blocks can be used for this purpose. Depending on the regional building code, our small halls require no permit, making them twice as attractive.
Accessory options:
We also deliver a variety of different equipment options upon request individually for each order, e.g.:
Various closed gables
Window strip
Side curtain systems
Wind protection nets and wind deflectors
Door and gate variants
Drainage systems
We have the optimal solution for your individual application requirements
Light-permeable, tear-resistant and optimally ventilated – we know the needs of modern agriculture and build halls that are more than capable of meeting these complex requirements. Whether for animal husbandry, the storage of straw, hay or biomass – halls from LCA Cover All are used in all areas of agriculture.

Request free, non-binding offer