Recycling
Soil remediation
Composting
Sewage sludge storage
Protect your recyclables and the environment
Halls from LCA Cover All offer the greatest possible flexibility. Our hall structures can be mounted on either concrete or steel chute walls. Of course, storage elements in an LCA Cover All hall also offer low-cost storage alternatives. Our application-optimized gable walls ensure stable air guidance for stored goods.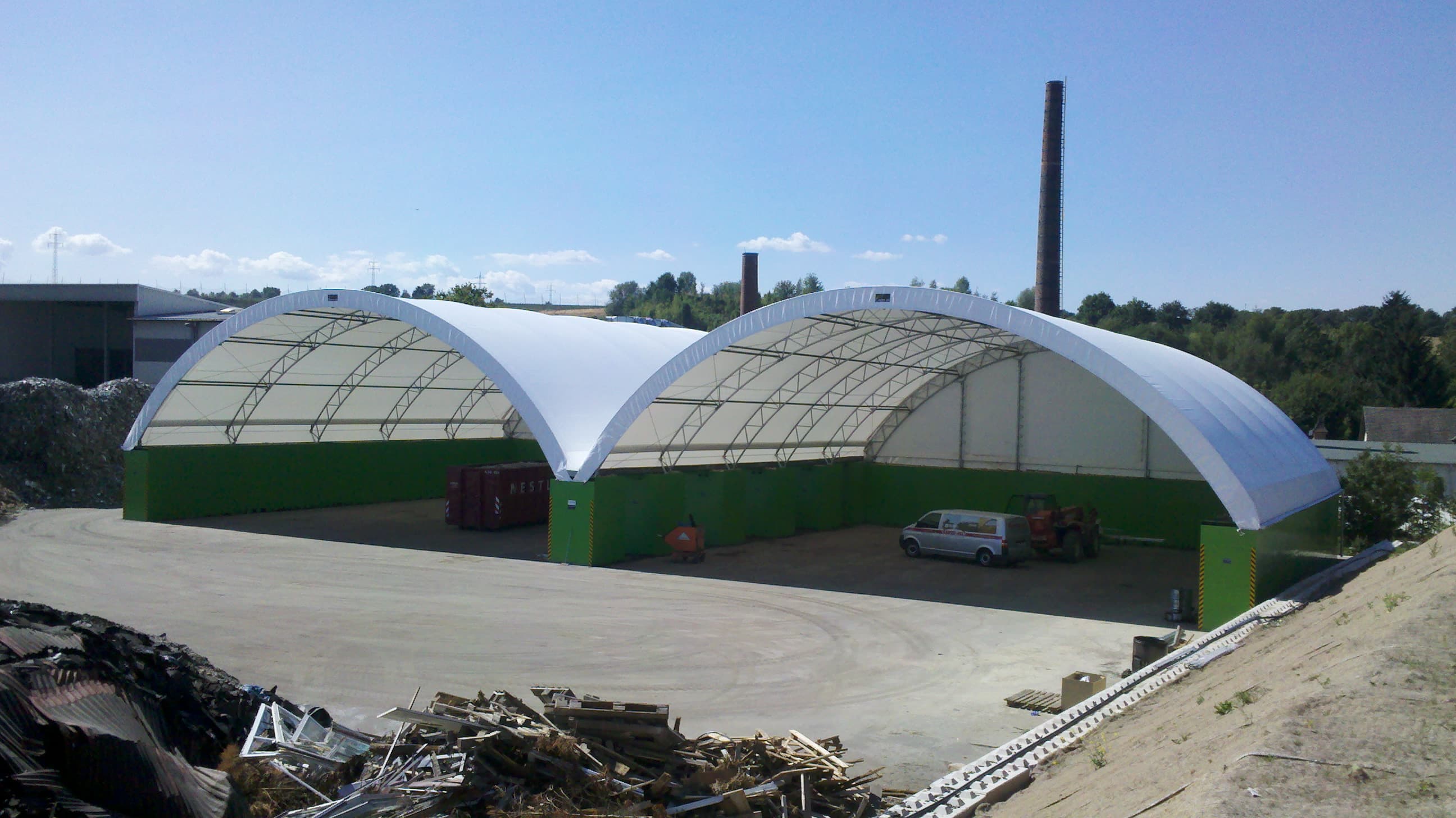 Your benefits at a glance:
Maximum spatial volume
Pourable walls up to 8 m high
Optimum work management thanks to adequate tipping height
Problem-free relocation
Various substructure options
Recycling halls
Pursuant to the German Waste Directive, special importance has been attached to the topic of waste recovery and recycling since 2008.
Both in Germany and the rest of Europe, the question of "resource policy" and thus also of the development of energy and resource efficiency technologies is set to play an ever greater role going forward.
Use professional storage technology to protect your recyclables and their intrinsic value from the outset. Collection, storage, treatment and recycling: we'll plan, manufacture and assemble our halls to meet your specific demands and needs.
Regardless of whether a roof apex height of 4 m or 19 m is the right choice for you, or whether you require a span width of 4 m or 50 m – almost anything is possible. Or maybe you simply need roofing for already existing concrete or steel structures? If so, you've still come to the right place.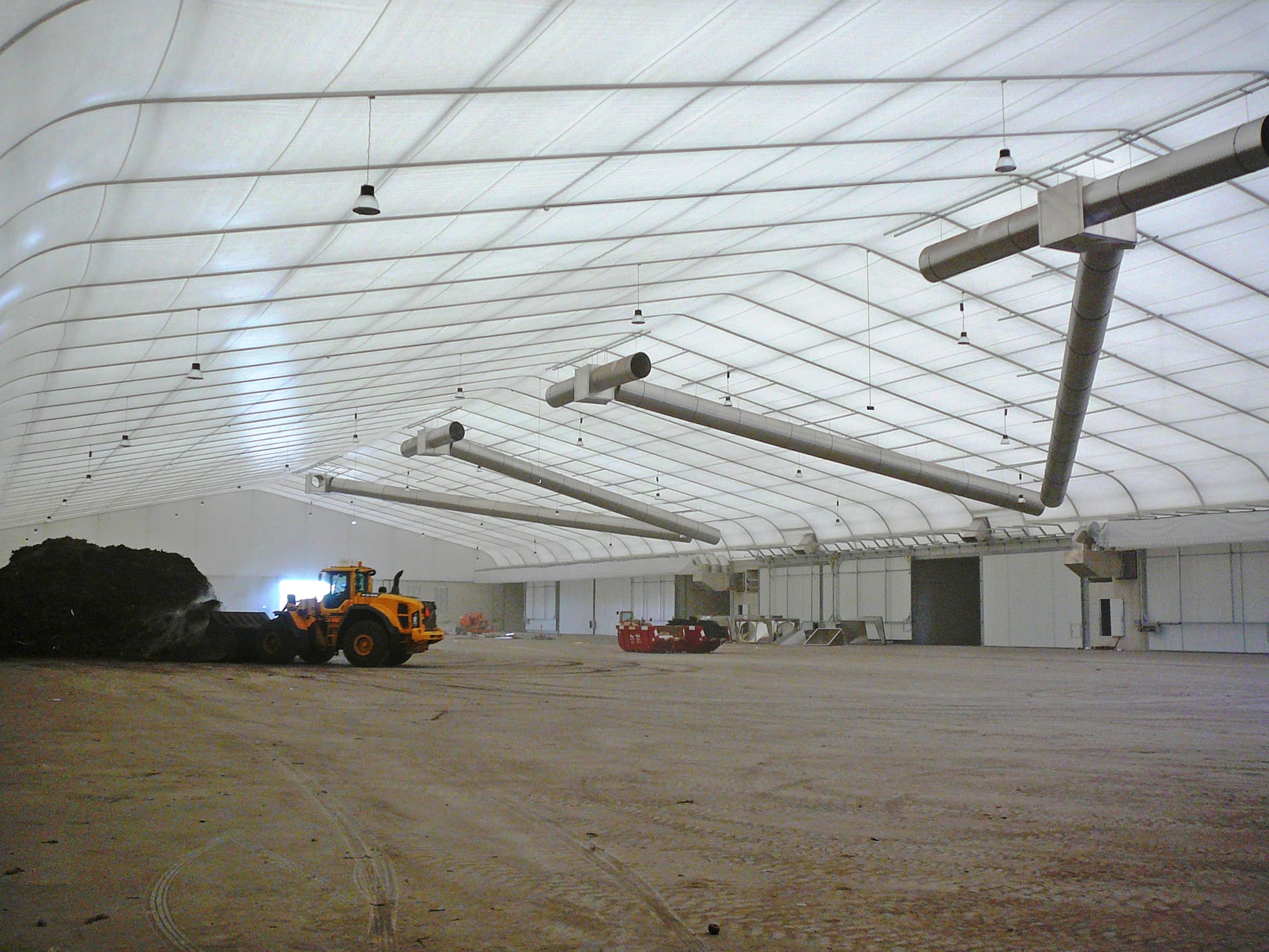 Your benefits at a glance:
Project experience in the area of soil remediation
Self-supporting structures
Short assembly & disassembly times
Green waste disposal, composting and soil remediation
To prevent the washing-out or discharge of pollutants and aggressive materials to surrounding areas of large composting facilities, the relevant environmental guidelines have recently been tightened: it's now mandatory to provide roofing for stored green waste.
Whether you only need roofing for existing concrete or steel structures or wish to build a self-enclosed composting plant, we'll advise you and plan, manufacture and assemble whichever hall represents the ideal solution for your plans.
In this area too, we can look back to successful projects and can offer you precision workmanship "made in Germany" in our state-of-the-art automated production facilities.
Your benefits at a glance:
Certifiable storage room as recycling buffer
Protection against the re-watering of dewatered or dried sludge
Protection against the blowing of dry parts in the wind and the subsequent drying of stackable wet sludge
Protection from surface water contamination
Sewage sludge storage
The new German Fertiliser Ordinance strongly restricts the recycling option for sewage sludge on farmland. In addition, compost recycling has given rise to competitive pressure for disposal areas, which will also have a negative impact on existing supply contracts. The targeted expansion of combustion capacities for sewage sludge will only be able to provide relief at the disposal level starting in 2022 at the earliest.
The safe intermediate storage of sewage sludge in especially suited halls gives both sewage treatment plants and disposal companies the time required for the development of sustainable sewage sludge disposal alternatives.
Request free, non-binding offer