Efficient precision work at our Stralsund site
Precision work
"Made in Germany"
Benefit from high quality and short distances – we manufacture your halls completely in Germany. With LCA Cover All halls you build turnkey and remain flexible in every detail. Get to know our high-quality halls that can be used reliably for many years: We will show you the practical advantages our individual solutions have for you.
Proven sustainability
Our top priority is absolute quality, which we guarantee through precisely defined operating procedures and comprehensively certified construction and production processes.
Certified welding company
As a certified welding company, we're qualified to perform welding work for the production of load-bearing steel structural components both in Germany and throughout Europe.
Unbeatable production quality
Our manufacturing team can implement almost any design and functional requirements during the manufacturing cycle of the roof and gable foils.
These include, for example:
Print on your company logo or labels
Attach zips, eylets, buckles, or velcro straps
Implement welt tracks (Keder rails)
All production processes are carried out according to the DIN 18204-1 standard. These are additionally supported by our very own quality management guidelines, an important one being: Doublechecking the fabric to be processed by scanning it via a special light table so as to ensure the highest possible quality.
Foil production on site
Our employees have years of experience in cutting and welding fabrics. The processing of PE fabric of the fire protection classification B2 and B1 as well as the manufacture of PVC films according to the DIN standard 18204-1 are both carried out directly at our Stralsund site.
An additional accent is set by our bicoloured cladding material. With the tinting on the outside, the inside will always be white, and as such provide for an optimum on translucency. As a result, up to 90 percent of the daylight passes through to the interior of the hall.
Furthermore, the fact that we reinforce our fabric where it meets with the steel framework allows for additional longevity of the roof cladding.
Our customers have a range of choices when planning the cladding. A multicoloured design, implementation of a sky light, borders with coloured elements.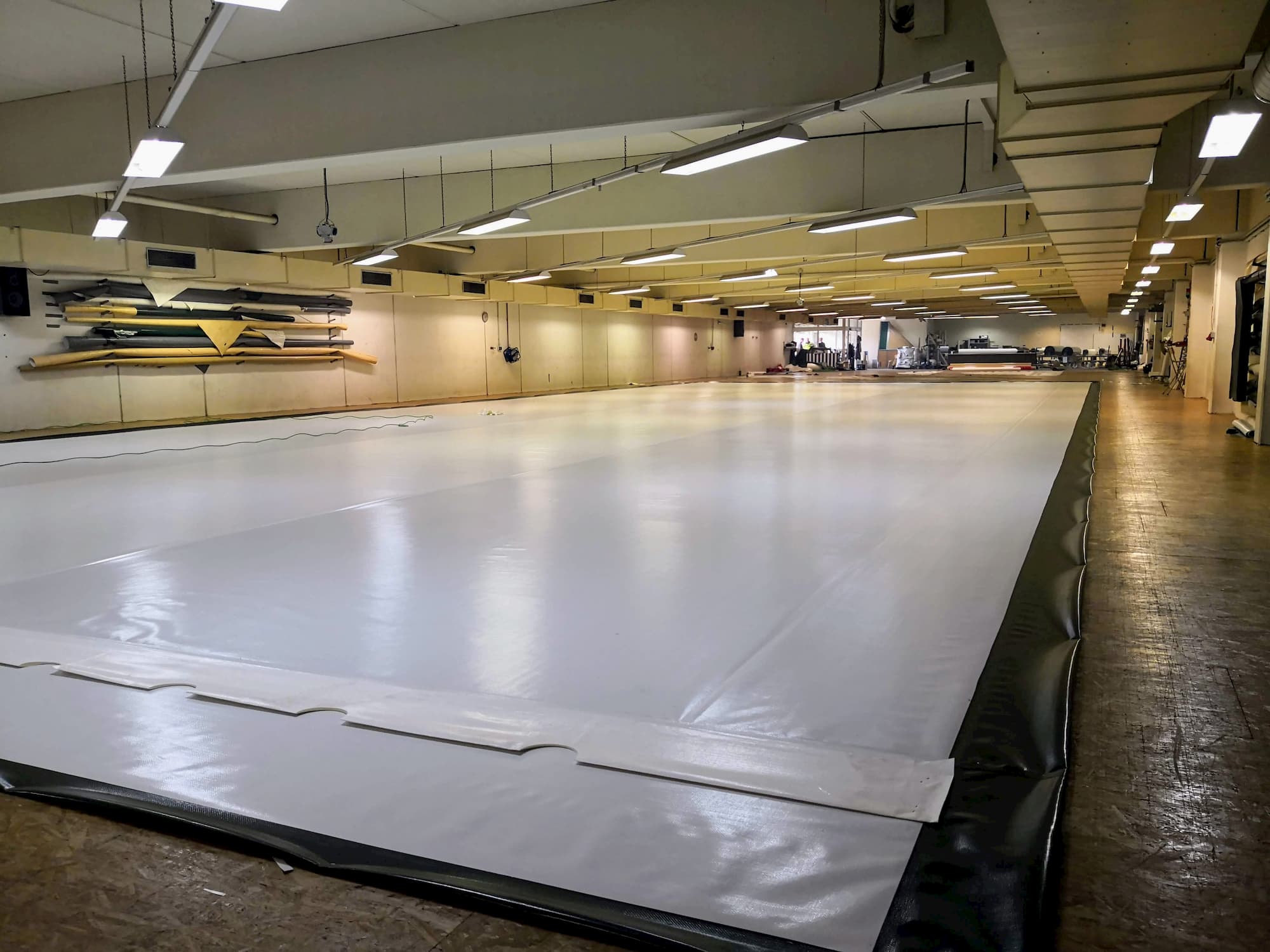 Request free, non-binding offer