Mobile Cover –
The portable shelter
The ideal combination of convenience and protection
LCA Cover All mobile shelter can be used in any area all year round due to its high flexibility and material strength. It is ideally suited as a portable field shelter and offers horses, cows, goats and sheep protection from any weather. It can also be used as a cover for machines and vehicles of any type and to store small amounts of wood or straw.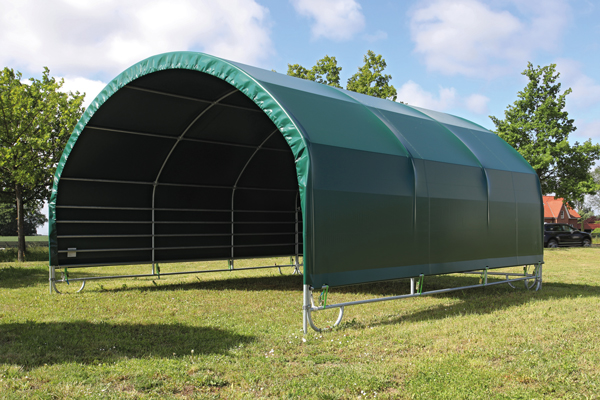 Our fence components and roof structures consist of galvanized round tubes with a wall thickness of 2 mm. The quality and workmanship of our covers "made in Germany" guarantee a long service life. Years of experience have proven that our portable cover designs can also withstand adverse weather conditions. To secure the portable cover, we use a fastening system comprising thick-walled tubes driven deep into the ground and fixed to the cover using appropriate fence clamps. The portable cover is clad with a PVC fabric membrane weighing around 670g/m² and available in a range of colours.
Available sizes:
4,0 m x 4,0 m x 3,18 m (H)
4,0 m x 6,0 m x 3,18 m (H)
6,0 m x 4,0 m x 3,64 m (H)
6,0 m x 6,0 m x 3,64 m (H)
Versatile applications:
Field shelter

Cattle sheds

Garage/Carport

Machinery shelter

Tool shed

Storage hall

Winter storage for boats
Your benefits at a glance:
Rapid assembly time

Flexible, year-round utilitysation

Gate combinations available for all sizes

Relocation possible
Accessory options:
Various gable walls (PVC fabric membrane, wind protection net)
Wind protection nets for long sides
Canvas extension (also with canvas cover)
Ground fastening system
Gate combination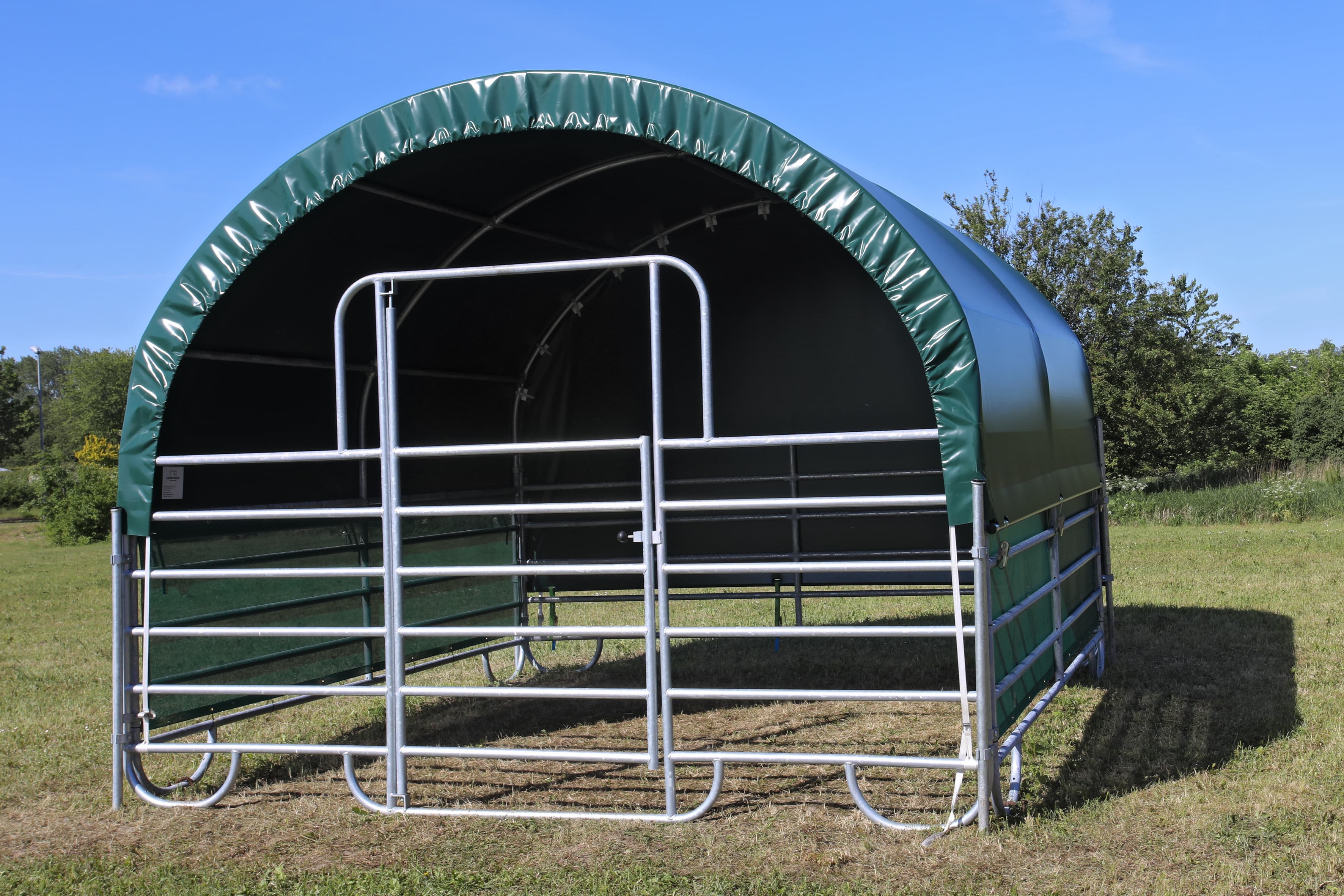 Cladding
Whatever the application, we'll provide you with the correct cladding for your portable shelter. Roofing membrane, gable walls and side covers are all available in a range of lengths and colours. The standard color range for PVC fabric membranes and the wind protection netting includes green, grey, white and beige. In addition, prints are generally possible for all hall types.
Roofing membrane:
Three versions of the roofing membrane are available:
Short
Long (canvas extension on the long sides up to approx. 5 cm under the 2nd horizontal from below)
Long with canvas cover (canvas extension on the long sides including overhang strips)
Gable walls:
We offer six versions of the gable wall, always including a tension tube and a suitable strap system:
PVC fabric membrane
PVC fabric membrane with canvas cover
Wind protection net
Wind deflector
1/2 wind protection net and 1/2 PVC fabric membrane with and without canvas cover with 4 m wide gable
1/3 wind protection net and 2/3 PVC fabric membrane with and without canvas cover with 4 m and 6 m wide gable
Side cover:
Wind protection net for

for both long sides,

include hemstitch

and eyelets for

convenient attachment
Request free, non-binding offer