LBS
Our versatile classic
The LBS series is our classic. This versatile hall impresses with a plethora of well-conceived details.
The sturdy space frame girders, which encompass 30% more spatial volume than conventional gable roofs, and translucent covers that create a pleasant, bright interior. Hall types with a straight side wall heights of up to 4 m are the ideal complement to this series.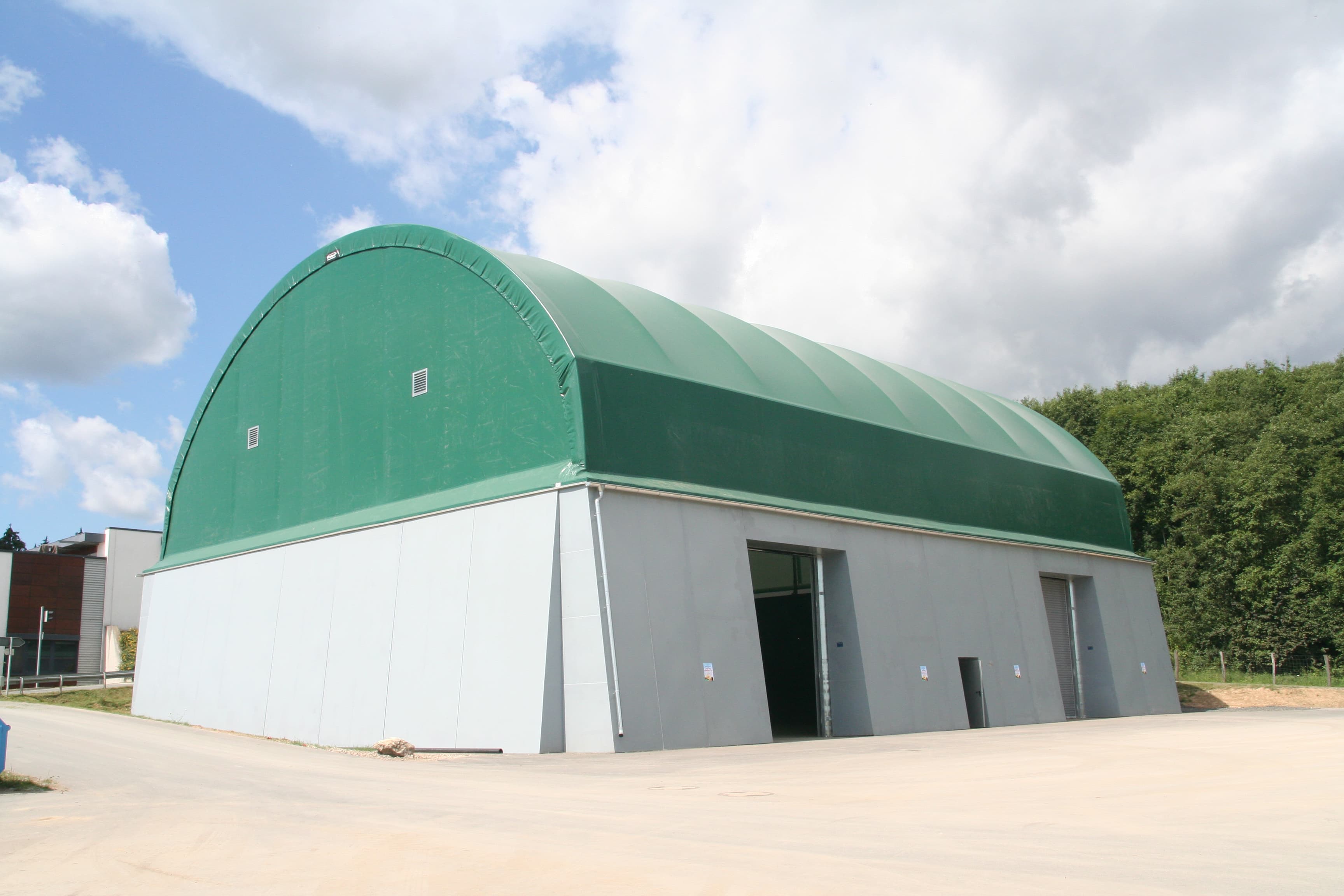 Convincing arguments:
30% more volume than a gable roof
Up to 90% daylight inside
Construction time much shorter than conventional structures
The LBS series from Losberger Cover All GmbH is the short-term solution to space shortages. We'll deliver and assemble our modular hall systems within an extremely short period to meet your bespoke requirements. Our well-thought-out and robust modular structures will also enable you to easily extend your hall at any time to cater to your changing spatial needs.
The Losberger Cover All supporting structures used in our hall solutions are always made of highly corrosion-resistant galvanised steel components.
Substructure options:
Steel partition walls
Pre-cast concrete elements, concrete T-blocks, concrete blocks
Concrete foundation
Accessory options:
We also deliver a variety of different equipment options upon request individually for each order, e.g.:
Various closed gables
Door and gate variants
Wind protection nets and wind deflectors
Window strip
Ventilation systems
Side curtain systems
Drainage systems
Available sizes*:
(width = dimension between axes, height = external roof apex height)
LBS 45 14,06 m (W) x 6,59 m (H)
LBS 51 16,40 m (W) x 6,71 m (H)
LBS 52 15,82 m (W) x 8,02 m (H)
LBS 54 16,89 m (W) x 8,27 m (H)
LBS 63 18,48 m (W) x 6,43 m (H)
LBS 65 19,67 m (W) x 8,94 m (H)
LBS 70 20,58 m (W) x 6,47 m (H)
LBS 72 21,80 m (W) x 8,99 m (H)
LBS 82 25,00 m (W) x 10,65 m (H)
LBS 90 27,99 m (W) x 10,83 m (H)
LBS 100 29,42 m (W) x 11,06 m (H)
LBS 115 34,78 m (W) x 11,33 m (H)
LBS 131 40,01 m (W) x 14,04 m (H)
LBS 142 43,23 m (W) x 16,27 m (H)
*available in all lengths
Request free, non-binding offer